DA Arrears Online Calculator for Central Govt Employees
Employees of the central government receive a pay raise twice a year in January and July. The percentage increase is determined by the Union Cabinet and is based on the cost of essential goods and services throughout India. The announcement regarding the increase, known as DA, is made in March and September. Arrears for the previous two months are calculated and paid along with the salary for those months.
DA Arrears Online Calculator
The employees, pensioners, and family pensioners of the Central government will receive DA and DR arrears with the help of an online tool named the DA Arrears calculator. The tool accounts for retroactive DA increases to aid in this process. It is important to note that even though the most recent increase was announced in March 2023, it will apply retrospectively to January of the same year. As a result, individuals employed by the central government will receive arrearages for two months. Our DA Arrears Online Calculator is available for your free and easy use in computing your arrears and DA increase from your basic salary.
| | |
| --- | --- |
| Topic | Expected DA Calculator |
| Department | Central Government |
| Beneficiaries | Central Govt Employees |
| Effective From | 1st Jan 2023 |
Related topics:
How to use DA Tool?
To effectively utilize the DA Tool, follow these simple steps to calculate your Dearness Allowance: Input your estimated AICPIN (IW 2016=100) from January to June 2023 into the designated white boxes. The tool will then estimate the approximate percentage of Dearness Allowance for the corresponding month in the appropriate column. Note that the estimation of Dearness Allowance will be finalized by disregarding the decimal value in June. Master the DA Tool by following these steps.
Calculate Your DA Arrears
Central government workers experience a pay raise twice a year, every 6 months, which is established by two elements: DA and Transport Allowance. The rate of the Transport Allowance is dependent on your eligibility plus the identical percentage as your DA. Based on your qualification, our tool will compute the individual enhancements for both DA and TA.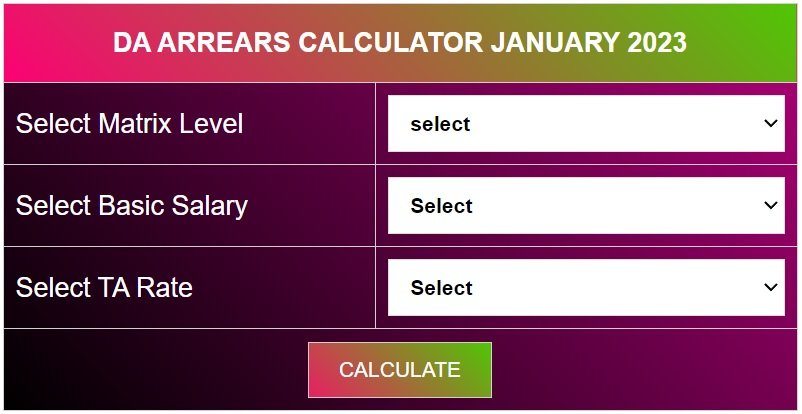 Kindly take note that the given result figures are to be regarded as an estimate.
DA Arrears Online Calculator Pensioners
The purpose of the online calculator is to assist retired individuals in calculating their arrears for dearness allowance (DA) and relief. It is worthwhile to mention that DA is intended for current government workers, while the relief payment is designated for retirees. The calculator works similarly when computing DR arrears, except that transport allowance does not apply to pensioners. With the help of this free resource, determining your arrears for two months and the increased DR amount based on your basic pension is made easy.
DR Arrears Online Calculation App
Soon, central government employees, pensioners, and family pensioners will have access to an online calculation application for DA arrears. This is due to the Union Cabinet's approval to increase Dearness Allowance by an additional 4% from January 2023. The enhanced DA will be included in March 2023's salary bill while arrears for the preceding two months will be paid in April 2023. The same process applies to pensioners and family pensioners with the enhanced DR amount being included in their March pension and DR arrears for two months to be issued in April separately.
Kindly note that the values presented for the outcome should be regarded as an estimate.
DA Arrears Calculation Excel Sheet 38 to 42
To aid in the calculation of DA arrears across different pay grades within the pay matrix table, an Excel sheet is available for download. This convenient tool can assist in determining your DA arrears using your basic pay and can be saved on your computer or mobile device for future use.
Important Links:
What is the DA Arrears Online Calculator for Central Govt Employees?
The DA Arrears Online Calculator for Central Govt Employees is an online tool designed to help calculate Dearness Allowance (DA) arrears due to Central Government employees.
What information do I need to use the calculator?
To use the calculator, you need to provide information such as your current salary, the revised DA rate, and the number of months since the last revision of DA rates.
Is the calculator only applicable to Central Government employees?
Yes, the DA Arrears Online Calculator is only applicable to Central Government employees.