In India, a considerable number of young individuals tend to be attracted to government positions that are in line with their educational background. The opportunity for both state and central government jobs is highly desired, with a multitude of job applications often submitted for every 1000 vacancies. The main reason for this preference lies in the financial security and stability that comes with a government job. Government workers in India receive a reasonable monthly income, with an annual salary increase of three times, along with periodic pay commission reviews held once every decade to evaluate their benefits and compensation.
These factors substantiate the robust pursuit of government openings among young job seekers in India. To aid individuals in assessing their options and approximating their initial monthly income for various central government roles, an online tool known as the TEUT Calculator has been developed. This tool includes a search feature that allows users to choose their preferred state and city from a drop-down list.
| | |
| --- | --- |
| Type of Calculator | Salary Calculator |
| Name of Calculator | First Month Salary Calculator |
| Beneficiaries | Central Govt Employees |
| Pay Commission | As per the 7th CPC |
| Dearness Allowance | 42% of Basic Salary (W.E.F. 1.1.2023) |
| House Rent Allowance | 27%, 18%, 9% (X, Y, Z Class Cities) |
| Transport Allowance | As per Pay Level and City Classification |
Pay Fixation in New Pay Structure
When appointed to a position in Central Government, individuals are guaranteed to receive a minimum basic salary that corresponds with their post/grade. As of January 1, 2016, the 7th Pay Commission's new pay structure has been enforced and will remain in effect until the implementation of the following 8th Pay Commission. The recruitment notice will state the pay level, basic salary, and allowances for each position. Aspiring candidates are aware of the pay level and basic salary for the positions they apply for.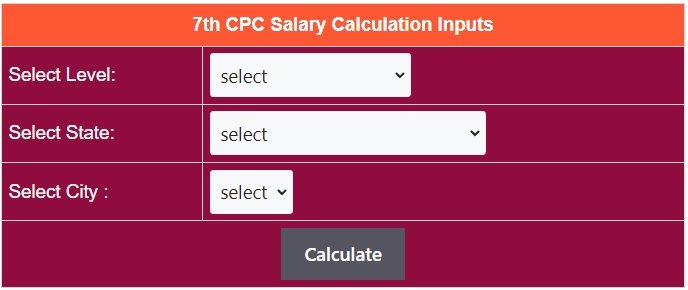 Initial Basic Salary of Levels 1 to 18
A list containing the minimum and maximum pay scale for Central Government Service positions ranging from Level 1 through Level 18 has been made available. The salary range for Level 1 starts at Rs. 18,000 and goes up to Rs. 56,900, while the highest pay offered for Level 18 is a fixed monthly sum of Rs. 250,000.
| | |
| --- | --- |
| Pay Level | Pay Range |
| Pay Level-1 | 18000-56900 |
| Pay Level-2 | 19900-63200 |
| Pay Level-3 | 21700-69100 |
| Pay Level-4 | 25500-81100 |
| Pay Level-5 | 29200-92300 |
| Pay Level-6 | 35400-112400 |
| Pay Level-7 | 44900-142400 |
| Pay Level-8 | 47600-151100 |
| Pay Level-9 | 53100-167800 |
| Pay Level-10 | 56100-177500 |
| Pay Level-11 | 67700-208700 |
| Pay Level-12 | 78800-209200 |
| Pay Level-13 | 123100-215900 |
| Pay Level-13A | 131100-216600 |
| Pay Level-14 | 144200-218200 |
| Pay Level-15 | 182200-224100 |
| Pay Level-16 | 205400-224400 |
| Pay Level-17 | 225000 |
| Pay Level-18 | 250000 |
Pay Matrix Level Basic Salary
The basic salary for central government employees at pay level 1 (1800 Grade Pay) as suggested by the 7th pay commission is Rs. 18,000. Employees at pay level 6 (4200 Grade Pay) are recommended a salary of Rs. 35,400, which is the first stage in the Pay Matrix Level 6 to 9 segment (PB II Grade Pay 4200 to 5400). Employees who were promoted from Grade Pay 2800 to GP 4200 before 2016 are entitled to extra benefits. In addition, central government employees in pay level 10 (with a 5400 Grade Pay) are suggested to receive a standard pay rate of Rs. 56,100, while those in pay level 13 (8700 Grade Pay) should receive a basic salary of Rs. 1,23,100 as per the recommendations of the 7th pay commission.
First Month Govt Pay Scale Calculator
A user-friendly online calculator is available to determine the initial salary of various Central government positions and levels. Indian applicants must meet specific age and educational prerequisites as stated in an official notification from the Ministry or Department of the Central government to be considered for vacant positions. This notification also outlines the number of vacancies and the corresponding basic salaries for the positions. When commencing their preferred job, potential applicants often inquire about their entire and net pay. Depending on whether their HRA and transport allowance are classified based on their city, two Central government workers with the same basic salary may receive varying total salaries. A central government employee's salary package is heavily influenced by their allotted work location.
Related topics:
Salary Structure in Central Govt after 7th CPC
After the implementation of the 7th pay commission, a major modification took place in the salary structure of central government employees. The grade pay mechanism was abolished and a fresh pay hierarchy called Pay Matrix Table was introduced for all levels and ranks. This table comprises the fundamental salary and highest yearly increment for up to 40 years. To ensure more transparency, there is an elaborate explanation of the salary constituents for central government employees given below.
Important Links:
The compensation package for this position entails a minimum salary of Rs. 28,638. The basic salary is set at Rs. 18,000 and is augmented with various allowances. These allowances include Rs. 7,560 for dearness at a rate of 42%, Rs. 1,800 for house rent at a rate of 9%, and Rs. 1,278 for transport at a Y class rate.
What is the Central Government's 7th Pay Commission?
The 7th Pay Commission was a committee appointed by the Government of India to review the salary structure of Central Government employees. It was formed in 2015 and its recommendations were implemented in 2016.
What does Salary Calculator 2023 do?
Salary Calculator 2023 provides an easy way to calculate your salary according to the Central Government's 7th Pay Commission pay scale.
Is Salary Calculator 2023 easy to use?
Yes, Salary Calculator 2023 is designed to be user-friendly and easy to use. You just need to enter some basic information and the calculator will generate your salary according to the 7th Pay Commission's pay scale.