First Time Young Voters in Lok Sabha Elections 2019
The determination of the leadership in Indian politics is on the hands of 15 million new young first time voters to prove in the Lok Sabha Elections will be held between 18th March 2019 and 19th May 2019.
Fact Sheet on Electoral Roll Data – 2019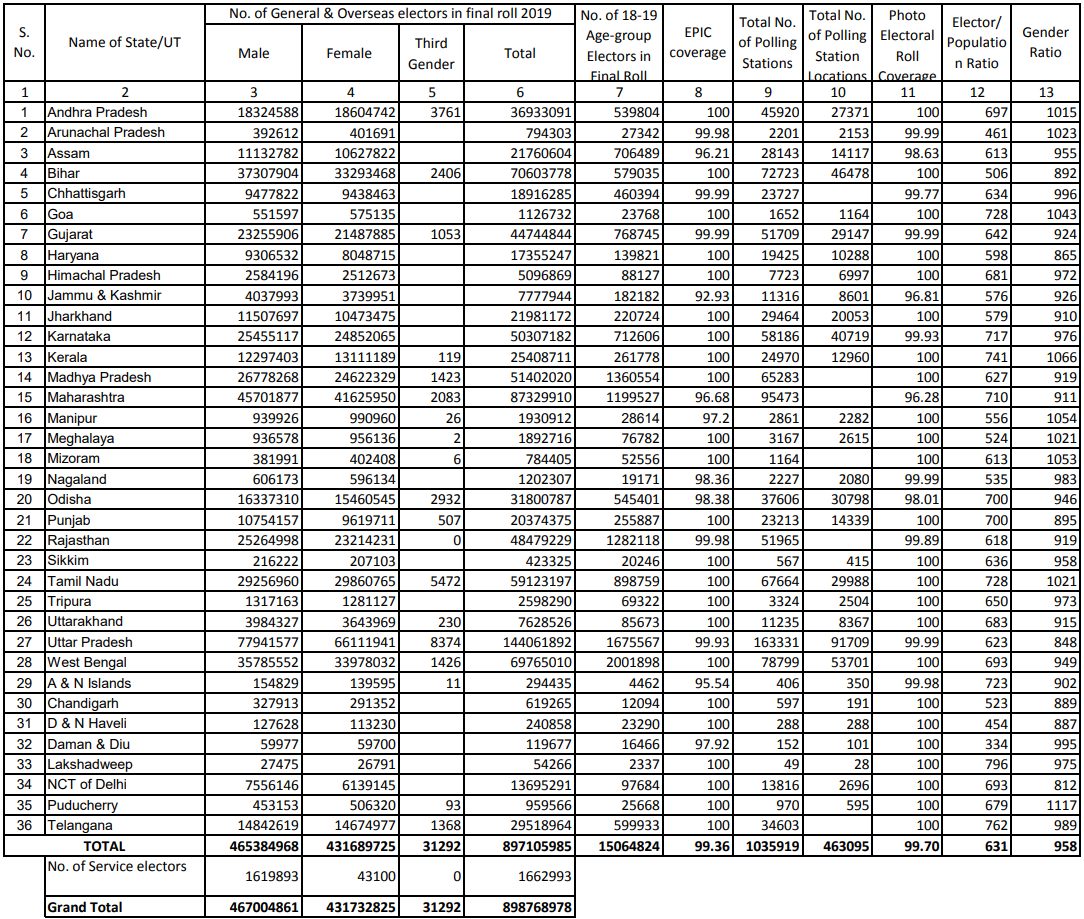 As per available Electoral Roll Data 2019, there are 15064824 voters in the age – group 18-19 yrs in Final Roll published as yet. Electors Photo Identity Card coverage of 99.36% has been achieved till date. Elector/Population Ratio is 631 currently and Gender Ratio is 958.
Data of 18-19 Age group electors for 2019
No.
State/UT
SR 2019
1
ANDHRA PRADESH
539804
2
ARUNACHAL PRADESH
27342
3
ASSAM
706489
4
BIHAR
579035
5
CHHATTISGARH
460394
6
GOA
23768
7
GUJARAT
768745
8
HARYANA
139821
9
HIMACHAL PRADESH
88127
10
JAMMU & KASHMIR
182182
11
JHARKHAND
220724
12
KARNATAKA
712606
13
KERALA
261778
14
MADHYA PRADESH
1360554
15
MAHARASHTHRA
1199527
16
MANIPUR
28614
17
MEGHALAYA
76782
18
MIZORAM
52556
19
NAGALAND
19171
20
ODISHA
545401
21
PUNJAB
255887
22
RAJASTHAN
1282118
23
SIKKIM
20246
24
TAMIL NADU
898759
25
TELANGANA ##
599933
26
TRIPURA
69322
27
UTTARAKHAND
85673
28
UTTAR PRADESH
1675567
29
WEST BENGAL
2001898
30
A & N ISLANDS
4462
31
CHANDIGARH
12094
32
DAMAN & DIU
16466
33
D & N HAVELI
23290
34
NCT OF DELHI
97684
35
LAKSHADWEEP
2337
36
PUDUCHERRY
25668
TOTAL
15064824